I always try to get in contact with other creators as it is very inspiring to know about the journeys of fellow creators. In this new 'Interview with a Creator' series, I aim to bring the stories behind the creator's amazing digital work.
For this week, I interviewed Pratip Vijayakumar the host of one of the best Tamil podcasts on Spotify – Chennaikaaran Tamil Podcast.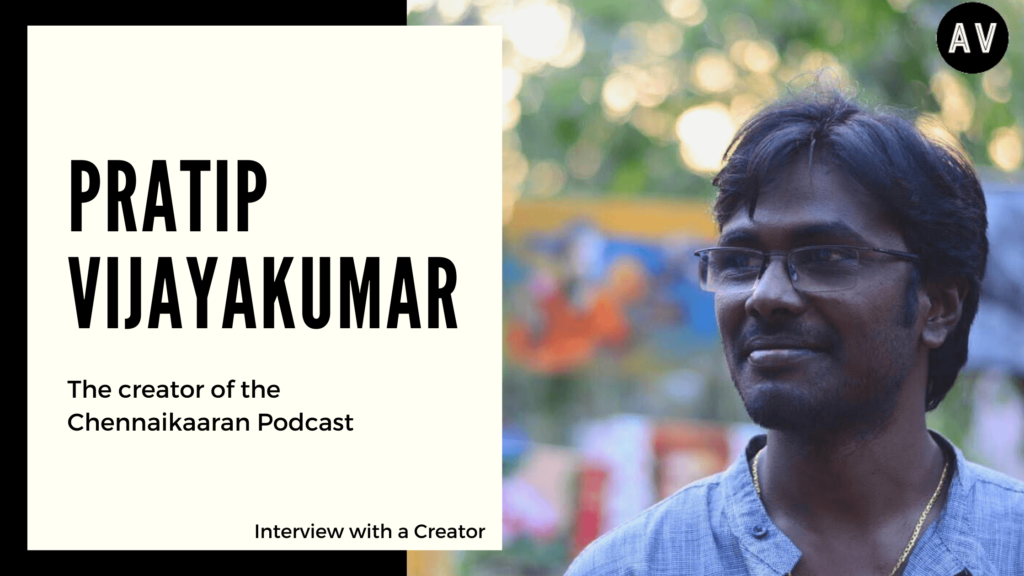 In this post you will find
Interview with a Creator: Pratip Vijayakumar | Chennaikaaran Tamil Podcast on Spotify
How did you get the idea / inspiration to start a podcast? In other words, why did you start this podcast?
I am a Podcast listener first. When I stumbled upon Anchor, that's when I thought let me also do a Podcast. When I googled I couldn't find many Tamil Podcasts and decided to start one. I love Movies and sharing my Opinion on Movies, that's when I decided to start the Podcast.
There were fewer Tamil Podcasts and I really wanted to have the first-mover advantage. That's the inspiration.
Do you study or work? How do you find the time to record this podcast? Do you record only on the weekends or do you have a fixed schedule you follow?
I have a full-time job since my Podcast depends mostly on the guests who will be able to spend time on Weekends, I stick to a Weekend Schedule, it is easier for me to spend time as well.
What ways and methods do you use/ implement to promote your podcast?
Currently, I'm hugely dependent on the Guest's influence. I have my circle of friends and also lots of friends on Social Media. These are the ways I promote my Podcast.
Since you have co-hosts / guests on the podcast, how do you decide on whom to invite on the podcast? Are there any interesting / funny stories that happened while you reached out to invite your guests? 
It usually depends upon the availability of the guests majorly. Mostly, I invite guests from Twitter with whom I have had interaction.
So, into the few episodes of Season – 1 I didn't have a guest for a Punjabi movie, which I wanted to talk about. I invited a close friend of mine but she rejected me stating she doesn't have any idea about Punjabi movies. So, I went about myself recording and publishing that episode.
Towards the middle of the season, Netflix announced they are releasing Studio Ghibli movies on their platform. I invited that friend again knowing that she is a great Studio Ghibli fan and along with her I invited another friend of mine who is also a fan of that studio. So, I recorded that episode just to listen to my friends talk about Studio Ghibli movies.
A podcast involves a lot of background work, are you solely working on this or do you have a team who is helping you?
I'm solely working on this for now. There are a lot of things that go behind a Podcast but I'm planning and releasing episodes accordingly so that I keep releasing episodes consistently without any hindrance. 
In this season of the Chenniakaaran podcast, you have taken up the topic of queer movies/ queer community? This is not a very popular topic as there is a scenario where it could be very controversial. What prompted you to choose this topic?
Your question itself has an answer. Queer movies are not very popular and there are still a lot of prejudices about Queer people.
I usually take a less-traveled route, I see that as my style, talking about Queer community is part of that and secondly as an Ally, the least I could do is amplify the voices of the Queer community and I really wish the Podcast is listened to by many and understand the sensitivity of the Queer Community and the issues they face without pushing them away.
Also, I'm not hosting the Season-3, I requested some of my Queer friends to host, thanks to them for bringing amazing guests. I'm learning so many things from every episode. 
What tools and software do you use to record your podcast?
If it is just me I record on Audacity. If I invite a guest I prefer Zencastr, which is a great tool for Online recording with fewer issues.
What are your favorite podcasts and why do you like them?
After Hours – This is hosted by 5 Harvard professors and they touch upon so many topics which are interesting and educational to listen to.
Philosophize This! – The way the host talks about Philosophy and the philosophers. It was more like a story and less like a boring lecture. So many lessons for History and Life.
Tamilprenuer – This is one of my favorite Podcasts which I started listening to this year. The interviews about Entrepreneurs in Tamil Nadu are all the more reason to listen to. Their journey to success and lessons we could take from them.
The Takeaway Club – This is an interesting Podcast where the guest invites some ordinary people who are doing some great things in life and Career. The title tells it all. 
Movie Herald Podcast – This is another Podcast by a friend who is fascinated by Movies and chooses different themes and introduces movies to the listeners.
Tirunelvelikaaran Podcast – Highly recommended for History buffs and if you are someone who likes history to be told in the form of Stories, this Podcast is for you.
There are so many more I'll just name them for you guys to discover: Kadhaipoma with Karthik, Anjas Mindcast, Kanna's Diaries, Neshflix Podcast.
---
Closing:
It was a thought provoking talk with Pratip Vijayakumar. His passion in amplifying the voices of the suppressed Queer community in India is very inspiring. I also learned about the Zencastr app used for recording podcast interviews, this would surely help me branch out my own podcast in the future. I wish him all the very best in the future.
Chennaikaaran is one of the most informational and best Tamil podcasts on Spotify. If you have time, please do check out his podcast and give it a good rating if you like it as this would help his reach as well.