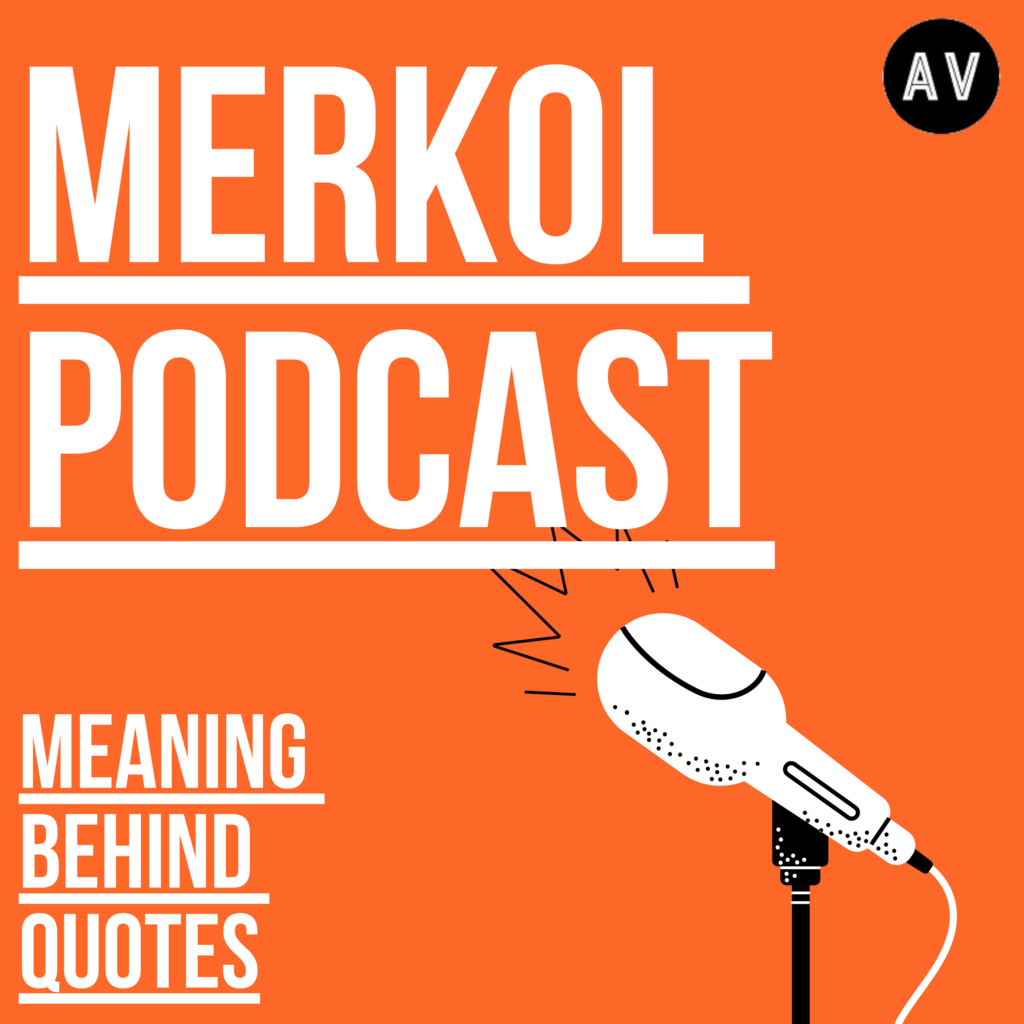 In this post you will find
Welcome to the Merkol Podcast – Tamil Podcast
The word Merkol in Tamil means 'Quote'. Quotes transcend many years, in this process the meaning and the reason why it was said is altered or in some cases, lost. They need better explanations to understand the core concepts.
Through this tamil podcast, I aim to deliver to you the actual meaning and concepts behind amazing, thought-provoking quotes and offer my views on their relevance to today's world.
I release one episode a week. This podcast is only in Tamil.
Links to other platforms:
Welcome to the Merkol Podcast – Tamil Podcast is available on Spotify, Apple Podcasts, Google Podcasts, Breaker, Overcast, RadioPublic, Anchor, Castbox, Pocket Casts
Have you ever wondered why some quotes are memorable and some are not? Are there any factors that determine this? I have researched this and have presented my findings in another blog post. The link is here.
> How do quotes become memorable?
If you do not understand Tamil, then we have the podcast episodes in the form of blog posts in English. Click below to read them all.
The Merkol Podcast Episodes:
Episode 1: Warren Buffett Quote "I will tell you how to become rich. Be fearful when others are greedy. Be greedy when others are fearful" | July 28, 2021
Episode 2: Jim Rohn Quote "Time is more valuable than money. You can get more money, but you cannot get more time" | August 4, 2021
Episode 3: Epictetus Quote "Wealth consists not in having great possessions, but in having few wants" | August 11, 2021
Episode 4: David Feherty Quote "It's how you deal with failure that determines how you achieve success" | August 18, 2021
Episode 5: Soorarai Pottru quote "How far can something be? It gets closer as you move towards it" | August 25, 2021
Episode 6: Seneca quote "Luck is what happens when preparation meets opportunity" | September 1, 2021
Episode 7: Gotthold Lessing quote "For me the greatest beauty always lies in the greatest clarity" | September 8, 2021
Episode 8: Naval Ravikant Quote "Work like a lion. Not a cow" | September 15, 2021
Episode 9: Master Movie Dialogue "We are hearing but not listening" | September 22, 2021
Episode 10: Thani Oruvan Dialogue "Choose an idea in your life. Make that your life" | September 29, 2021
Episode 11: Fight Club Quote "You are not your job" | October 7, 2021
Episode 12: The Only Living Boy in New York Quote "The farthest distance in the world, is between how it is and how you thought it was gonna be" | October 14, 2021
Episode 13: Richard Feynman Famous Quote "The first principle is that you must not fool yourself, and you are the easiest person to fool" | October 20, 2021
Episode 14: Joan Didion Quote "We tell ourselves stories in order to live" | October 28, 2021
Episode 15: John Muir Quote "The power of imagination makes us infinite" | November 4, 2021
Episode 16: Benjamin Franklin famous quote "Most people die at 25, we just don't bury them until they are 70" | November 11, 2021
Episode 17: Stephen Hawking quote "The greatest enemy of knowledge is not ignorance; it is the illusion of knowledge" | November 18, 2021
Episode 18: Vincent Van Gogh Quote "Great things are done by a series of small things brought together" | November 25, 2021
Episode 19: Satoshi Nakamoto Quote "The root problem with conventional currencies is all the trust that's required to make it work" | December 2, 2021
Episode 20: James Clear Quote "Most lucky events in life are opportunities, not outcomes" | December 9, 2021
Episode 21: Dr. Wayne Dyer Quote "Most lucky events in life are opp"Change the way you look at things and the things you look at change" | December 16, 2021
Episode 21: | December 23, 2021