In this episode of the Merkol Podcast, we analyzed the famous Thani Oruvan Dialogue starring Jayam Ravi and Arvind Swami, which goes:
"Valkaila orey oru idea va eduthukonga. Andha idea va unga vazhkai aakikonga."

Thani Oruvan Dialogue – Siddharyh Abhimanyu
When translated to English, it goes like this, "Choose an idea in your life. Make that idea your life"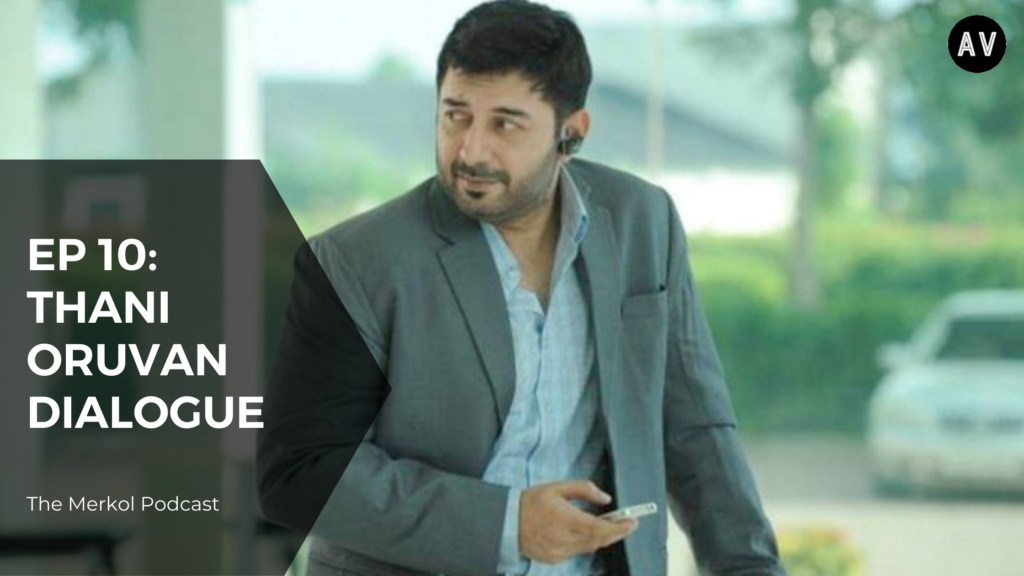 The dialogues for this movie were written by Mohan Raja who also directed this film. Here are some information about him.
In this post you will find
About Mohan Raja
Mohan Raja was born in Madurai, Tamil Nadu in 1974. He was exposed to the movie industry at a very young age as his father, Mohan, was a famous movie editor. As a result of his father's involvement in the film industry, Raja regularly visited Vauhini Studios as a teenager to watch his father work as a film editor.
He made his debut as a director with the film Hanuman Junction in 2001 which was a remake of a Malayalam film. This was the first of a string of remakes in his career. He was dubbed as the 'Remake King' by the media as he had several hits by remaking films from other languages in Tamil.
Mohan Raja directed his first original film, Thani Oruvan in 2015 and was a massive blockbuster hit. It garnered positive reviews unanimously and he broke his chain of remakes and proved that he is not just a guy for remakes.
Mohan Raja received the Edison Award, IIFA Utsavam Award, and Filmfare Award in the Best Director category for Thani Oruvan.
Before he begins writing the script for his films he always remembers what his dad told him, his dad said that the audience is god and if you aim to satisfy them in your script then you are closer to success.
This mindset works in almost every industry and this is something I follow when I am recording this podcast as well.
One idea to obsess over is all you need in life
A lot of people are interested in various small niches but convince themselves that this is not worth their time and effort and quit. I don't understand how they are able to convince themselves to go against their natural inclination.
For example, let's consider that you are naturally interested in worms and spend all your time learning about them, experimenting with different ideas with them. Then as you age, you convince yourself that the time spent on studying worms is not worth it and you start leetcode or tutorials point and try to become a software developer because that is where the money is.
You suck at your job, you barely scrape through each day. Since the work you do consumes a big chunk of your time, you start hating life as well as you don't see the meaning in your life.
At that point what you have failed to realize is that if you had followed your natural interest in worms then there is a huge industry waiting for experts like you to improve them. Consider the fishing industry, where you can easily be an advisor/expert on the different kinds of worms that you need to catch certain fish, how the worms react in different situations.
Let's dumb it down even further. Let's assume you are naturally curious about the color black. You know everything about the color black alone. You can get a job in interior design. You can become an expert and start naming new shades of black. Check this out:
Even a job in companies like Asian paints where you figure out the best way the color black should be painted. There is so much opportunity in just this.
I can keep giving you more and more such examples.
Take one idea that you are genuinely interested in and make it your life.
How to find that one idea
First, figure out where your curiosity naturally lies. Then go ahead and try it. That is the only way you will ever know if something works for you or not. If you don't try it then you will never know how you feel (happy, content, bored, etc).
Keep trying everything you are naturally curious/interested in and you will figure out your thing for sure. Get to know people who are interested in the same things as you and be part of any community that aligns with your thoughts and interests.
Like Nike says, 'Just Do It'.
Watch this Ted talk for more inspiration to just do it.
Closing
Follow what you are naturally interested in and try to learn as much as you can about that topic, and then learn more. Aim for excellence in that topic, success will follow you.
You won't treat it like work because you are naturally interested in it. Find people interested in the same thing as you and form connections with them. Be a part of any communities in the niche you are interested in.
Always remember, doing what you love with people you like is not work, it's just play.
Podcast:
I have recorded a podcast on the same quote. But it is in Tamil. If you know the language then please do listen to this. Do let me know if you like it. Here is the link: