In this episode of the Merkol Podcast, we analyzed the Vincent Van Gogh Quote. The quote goes:
"Great things are done by a series of small things brought together"

Vincent Van Gogh Quote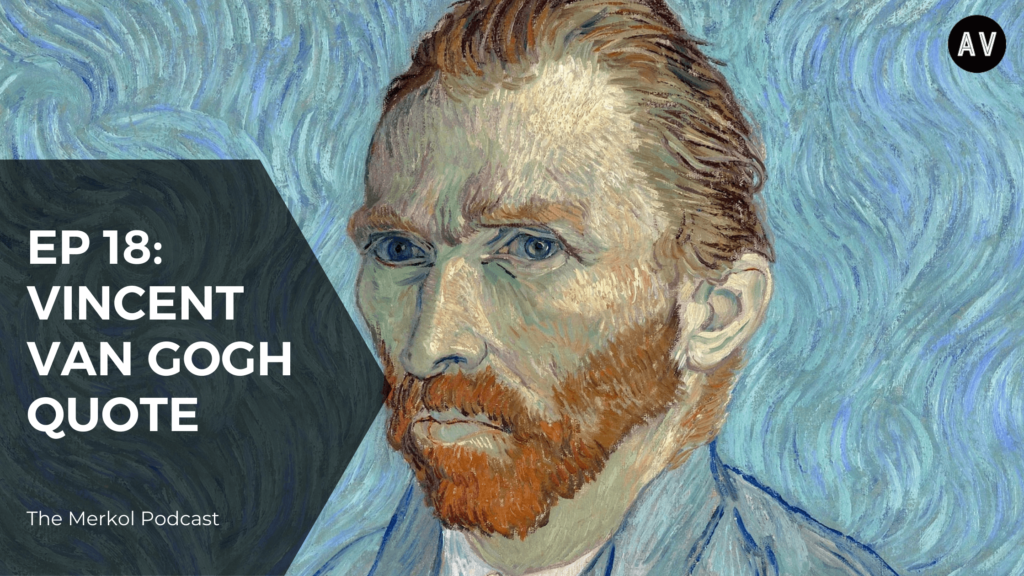 In this post you will find
Who is Vincent Van Gogh?
The following contents has been taken from Biography and BBC.
Van Gogh and his brother Theo wrote almost 600 letters to each other. These letters chronicle their long friendship as well as van Gogh's creative beliefs and philosophies. All of van Gogh's letters to him were retained by Theo. Johanna van Gogh, Theo's widow, compiled and edited letters after both of them died. In 1914, the majority of the letters were published. We have come to know of his entire life story through these letters.
Vincent Van Gogh was born in Zundert, Netherlands, on March 30, 1853. He got his first employment in 1869, working for an international art selling firm in the Hague.
Van Gogh dabbled in a variety of mediums before settling on painting. Van Gogh's profession as an art dealer took him to London and Paris, but he was dissatisfied with the work and was fired in 1876. He worked as a teacher in England for a short time before becoming a preacher in a mining village in southern Belgium.
At the age of 27, he abandoned his unsuccessful careers as an art dealer and a missionary and concentrated on his painting and drawing. From November 1881 to July 1890, van Gogh produced close to 900 paintings.
Van Gogh was troubled by mental illness for most of his life. He spent time in psychiatric hospitals, including a period at Saint-Rémy. Starry Night, arguably his most famous work, was painted in that asylum. He voluntarily admitted himself there to recover from his 1888 nervous breakdown. The painting depicts the view from his bedroom window in that asylum.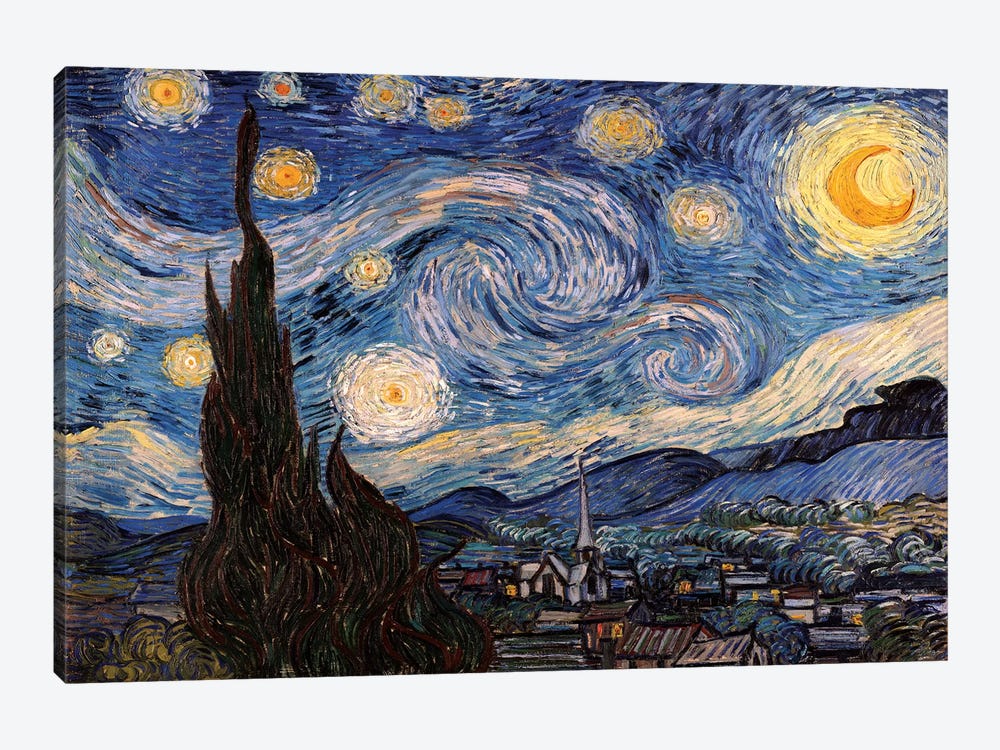 Vincent van Gogh is only thought to have sold one painting during his lifetime, being the Red Vineyards Near Arles. Van Gogh was never famous as a painter during his lifetime and constantly struggled with poverty. He sold only one painting while he was alive: The Red Vineyard which went for 400 francs in Belgium seven months before his death
On 27 July 1890, again suffering from depression, Van Gogh shot himself. He died two days later.
The list of famous paintings by Van Gogh includes Starry Night, Sunflowers, his own self-portrait, irises, potato eaters, and almond blossoms. His most expensive painting Portrait of Dr. Gachet was sold for $148.6 million in 1990.
What does this Vincent Van Gogh quote mean?
This Vincent van Gogh quote stresses the importance of small things which contribute to one great thing which actually becomes your life's legacy.
Examples of small things contributing to something great
The examples for this are all around us.
Everything starts out small.
Steve Jobs never set out to build a company that sells digital services, physical accessories, laptops, desktops, phones, etc. He wanted to build one machine which he called Macintosh and make it the best possible desktop at that point in time.
The details he stressed with the different fonts, the UI, the colors involved cannot be understated. That level of emphasis on the little things propelled the company to become the most sought-after phone ever. That same idealogy was followed in other products as well which helped the company gain a cult following.
MS Dhoni was not as calm as he is now when he first started out in cricket. With every passing game, with every pressure situation he was put in, he learned the power of being calm in every sense.
That is why he does not tinker with the starting eleven after a loss or two. Because it is all part of a process he has implemented and processes take time to come together. This cannot be achieved overnight, it needs hard work on their craft on a consistent basis.
Here is Dhoni explaining the difference between process and result:
He takes it one game at a time and does not even have the results in mind. What happens in that game is more important than the result. The process is always more important than the result.
Live in the now
Living in the present moment means no longer worrying about what happened in the past and not fearing what will happen in the future.
It means enjoying what's happening now and living for today. Choosing to live in the past or the future not only robs you of enjoyment today, but it also robs you of truly living.
Reaching the goals does not guarantee happiness. The joy with which or the curiosity with which you learn and build each step or process in the way brings happiness in your life. The end goal is just something to look forward to but not to obsess over.
Drawbacks of thinking too far ahead
It is always better to not look too far ahead or even imagine too much about the big picture. Two things are only possible:
– You focus on the big picture too much that you miss out on some important details of each of the smaller steps.
Performing those smaller steps to the utmost perfection is important because these smaller things contribute to that one great thing. If those smaller things are not taken care of then you may not reach the end goal you have in mind which is not the ideal outcome.
– Your focus on the big picture will render these smaller things meaningless.
For example, you want to have more than 10 lakhs in your savings account, that is your big picture. But to achieve that figure you need to put away a few thousand or even tens of thousands in that savings account every month on a consistent basis. If you think about the goal of 10 lakh INR, the 1000 INR you need to save every month loses its importance as it is just 1% of your big goal. Your discipline might squander and sometimes you may spend that 1000 or even lose interest in saving which defeats the whole purpose of a savings account.
Since we are in the zone of saving money. Let's talk about compound interest.
Compound Interest Vs Simple interest
Compound interest is the best example for this quote which you can execute today.
In school, you would have definitely learned simple interest and compound interest in math class. Let's have a recap. Simple interest is the amount of interest earned on a principal amount based on a pre-determined rate of interest and that interest amount will be the same fixed amount every month. But in compound interest, you earn interest not only on the principal amount but also the interest earned previously.
Both simple interest and compound interest are similar in terms of execution with just one minor change and that one change will move the needle a long way when you look at longer horizons like 30 or 40 years. Let me show you:
| | | |
| --- | --- | --- |
| Year | Simple Interest | Compound Interest |
| 1 | 10,800 | 10,800 |
| 10 | 18,000 | 21,589.25 |
| 20 | 26,000 | 46,610 |
| 40 | 42,000 | 2,17,245.21 |
Simple Interest Vs Compound Interest Table
At end of 40 years, you would have had 175,245.21 more if you had chosen compound interest over simple interest. More importantly, your 10,000 INR became 2,17,245.21 after 40 years. You have become a lakhpathi with just your 10,000 INR without even one second of additional work from your end. This is why compound interest is key to risk-free wealth creation.
Closing
Have a clear vision in mind, this is important for you to go back to every time you feel you are unsure whether to do a certain work or not. Obsess over the smaller tasks and the results take care of themselves.
Podcast:
I have recorded a podcast on this Vincent Van Gogh Quote. But it is in Tamil. If you know the language, then please do listen to this. Do let me know if you like it. Here is the link: