I always try to get in contact with other creators as it is very inspiring to know about the journeys of fellow creators. In this new 'Interview with a Creator' series, I aim to bring the stories behind the creator's amazing digital work.
For this week, I interviewed Cynthia Vinolin Davis Sundarraj, the host of one of the best Tamil podcasts on Spotify – Dear Smile with Cynthia Tamil Podcast.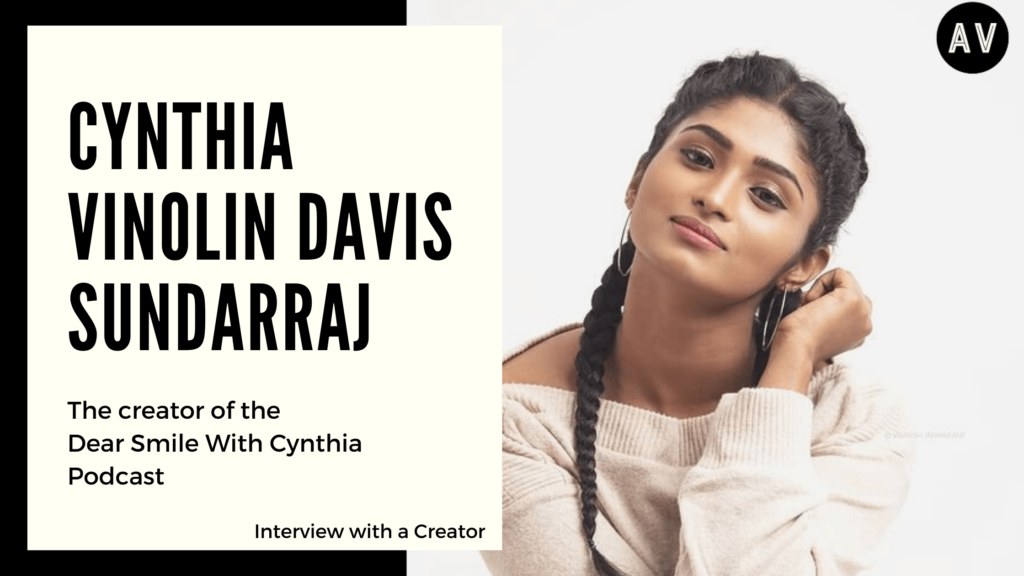 In this post you will find
Interview with a Creator: Cynthia Vinolin Davis Sundarraj | Dear Smile with Cynthia
How did you first start out as an influencer? Was it the idea from the start ? When did you first think that this might be something serious?
I never had an idea about the word "influencer" even. I always wanted to experience and explore my life from a different perspective and admire myself in my own way. When I did this, I understood that there is a special feeling or even addiction in achieving the goals.
So I started stating my thoughts about this and it turned out to be relatable to a number of people. Even now I am not influencing people's minds yet I am making them admire them and their circumstances more.
Do you still remember the first content you posted online? How did it feel? Is there a story behind it?
Yes, My first episode in Dear Smile With Cynthia- "Compliment people".
Being humans, we are emotionally bonded to each other, I believe. In today's world, it seems to be hard for people to compliment each other- a lot of jealousy has spread which spoils the minds of healthy wellbeing. Right from my childhood- I have had this weird habit of complimenting people and encouraging people to do better in life. I said it was weird because I felt I do it a lot to outsiders yet I don't get that in return.
I felt like when everybody does it – the hatred spread in the world due to any other cause changes into a positive environment for our generation to enjoy. As I always say- everything starts from us, from home- better to practice it than just thinking about it.
You have a good Instagram account, a growing youtube channel and now a podcast. How do you find the time to record this podcast? Do you study or work or are you a full time influencer?
 I was doing my bachelor's in engineering when I stepped into Instagram- and meanwhile, I was dancing as it was my passion. Later I got a scholarship to study for my master's degree in Germany- my dad wished to do this course- so I took this strong move to move out of India.
Later started my youtube- as a memory gram of my journey which turned out to be a good one. I am now studying and working part-time in a German institution and also doing Dance classes (Live & Online) and handling my social media and now finally stepped into the Podcast field. I make my own schedule- no fixed timetable and all. Whenever I feel relaxed or want to write or record I do it. 
How did you get the idea / inspiration to start a podcast? In other words, why did you start this podcast?
The idea to start a podcast was purely due to the approach of a young, enthusiastic team called "Inspire Race". Before that, I was doing video episodes on Instagram. This team explained to me that the number of potential users who listen to podcasts is increasing so I just wanted to explore this new field of media too.
What ways and methods do you use/ implement to promote your podcast?
Every time, an episode is released I share it on my Instagram for the audience to know about it.
A podcast involves a lot of background work, are you solely working on this or do you have a team who is helping you?
Definitely, a podcast involves a lot of background work- I have been blessed with an amazing team called " Inspire Race". They have been patient with me and they always keep everything organized for me which is a very good quality that pushes me to do more.
In each episode you tackle a pressing self improvement issue. How do you come up with the topics for each one? 
The topics are spontaneous to me- I relate the small happenings in my life to a bigger moral because I believe every little thing that the universe allows us to experience is to learn something big from it.
What are your future plans for the podcast and for you as a creator? 
I mostly live my present- no big future goals. My only goal is to make my audience experience the happiness which I am experiencing in my journey of life even though life is a big roller coaster, I want them to give some time and have fun with it.
What tools and software do you use to record your podcast?
I simply use a Samson Microphone and a pop-filter.
I use Audacity software and the remaining pre and post-editing work is done by my team "Inspire Race".
What are your favorite podcasts, youtube channels and books? Why do you like them?
My favorite podcast in English- Michelle Obama and Tamil-RJ Balaji as their content is just so raw and makes your day. Youtube channel, I like many bloggers in Tamil and in English – when their content is raw and entertaining. Books- I haven't read any books completely, now trying to build the habit because I am a great listener, my mom has been my narrator to different classic Tamil books.
What tips/advice do you wish to give to a new/budding creator?
If you wish to start something, start now- don't just drag time or don't think it is too early or soon. Every idea can be transformed into content but make sure you never hurt any other person with your content.
When you started out, what are some of the mistakes you made which you would advise other budding creators to avoid?
The only mistake I made is being in a flow. It is my biggest advantage but when working as a team – I should work on schedule. This happened to me only in the podcast field as it was new to me. But my team has managed it so well. 
---
Here is the Social Media links to the Podcast: Instagram, Youtube
Closing:
It was a thought-provoking talk with Cynthia Vinolin and she was pretty fun to interview as well. She works really hard to keep producing quality content. Her podcast recommendations are amazing ones as well. I wish her all the very best in the future.
Dear Smile with Cynthia is one of the most informational and best Tamil podcasts on Spotify. If you have time, please do check out her podcast and give it a good rating if you like it as this would help her reach as well.
Check out other Interviews with a Creator as well.