I always try to get in contact with other creators as it is very inspiring to know about the journeys of fellow creators. In this new 'Interview with a Creator' series, I aim to bring the stories behind the creator's amazing digital work.
For this week, I interviewed Judith Susmitha Ros the host of one of the best Tamil podcasts on Spotify – Oxytalksin Tamil Podcast.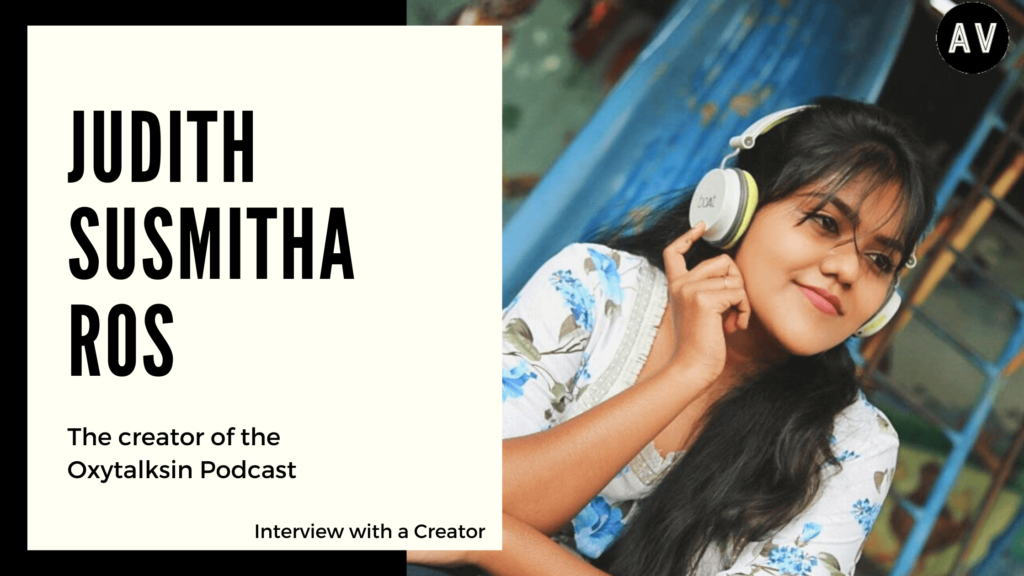 In this post you will find
Interview with a Creator: Judith Susmitha Ros | Oxytalksin | Best Tamil Podcast on Spotify
How did you get the idea / inspiration to start a podcast? In other words, why did you start this podcast?
I strongly believe that my sole purpose is to reform society. So initially, I planned to start an Instagram page like everybody else 😛 But then, in order to make a deeper impact, you gotta do something more than just create posts. So I see podcasting as a powerful tool to prepare myself for the bigger goal.
Do you study or work? How do you find the time to record this podcast? Do you record only on the weekends or do you have a fixed schedule you follow?
I am a working woman and I'm very glad that my job allows time for myself and my growth. But still, I'm a fun-loving person and it's kind of hard for me to stay back at home when all my other friends get together. So, I have to sacrifice a lot of fun and time for making podcasts. But since I'm a workaholic, I don't find it very difficult to make time for something that I love doing. 😛
What ways and methods do you use/ implement to promote your podcast?
I am not concentrating on promoting my podcast for now. I'm just focusing on delivering useful content. I just create and share Instagram reels in my circle for each episode.
The little voice overs from many tamil comedians really compliment your episode and make it more fun to listen to. Do you edit your episodes yourself or do you have someone who is helping you with this?
I use voiceovers of comedians and funny sound effects to balance the serious tone of the podcasts. I prepare everything related to the podcast myself, though I have two friends supporting me at times with the episode cover and proofreading, thankfully.
In each episode you tackle a pressing social issue. How do you come up with the topics for each one? 
I focus more on the social issues which have affected me a lot personally. I don't preach something which I haven't experienced myself. At least, I postpone topics that I wish to talk about until I have experienced them. For eg. I'm not going to speak about anger management until I have learned to handle anger issues myself. I mostly try to speak up for myself and others like me and that's how I get the topics. I speak my heart out.
What tools and software do you use to record your podcast?
I use Audacity for recording and editing my podcast. I use a webcam as a microphone for recording which reduces noise better than headphones.
What are your favorite podcasts and why do you like them?
I love RJ Balaji's Nallanna Murukku for his humor and also, I believe we're both working towards Social reformation. And I like This Life Ticket Tamil podcast because the tone of her podcast sounds similar to mine, hahaha. And obviously who doesn't like RJ Ananthi's The Book Show? And I didn't yet get a chance to listen to the other great ones.
---
Closing:
It was a thought-provoking talk with Judith Susmitha Ros. She makes a lot of sacrifices in terms of spending time with friends to get each episode out and I hope all these sacrifices are worth it to her in the end. Her podcast recommendations are amazing ones as well. I wish her all the very best in the future.
Oxytalksin is one of the most informational and best Tamil podcasts on Spotify. If you have time, please do check out her podcast and give it a good rating if you like it as this would help her reach as well.