Welcome to all you podcast fans. If you have come in search of the best Tamil stories podcasts on Spotify, then I understand your frustration. There are so many podcasts out there in English, Hindi, etc but it is always heartwarming to listen to someone talk in your native language about a topic you are interested in. Trust me even I have gone searching the web for them. So I thought it would be better to curate a list of the best ones.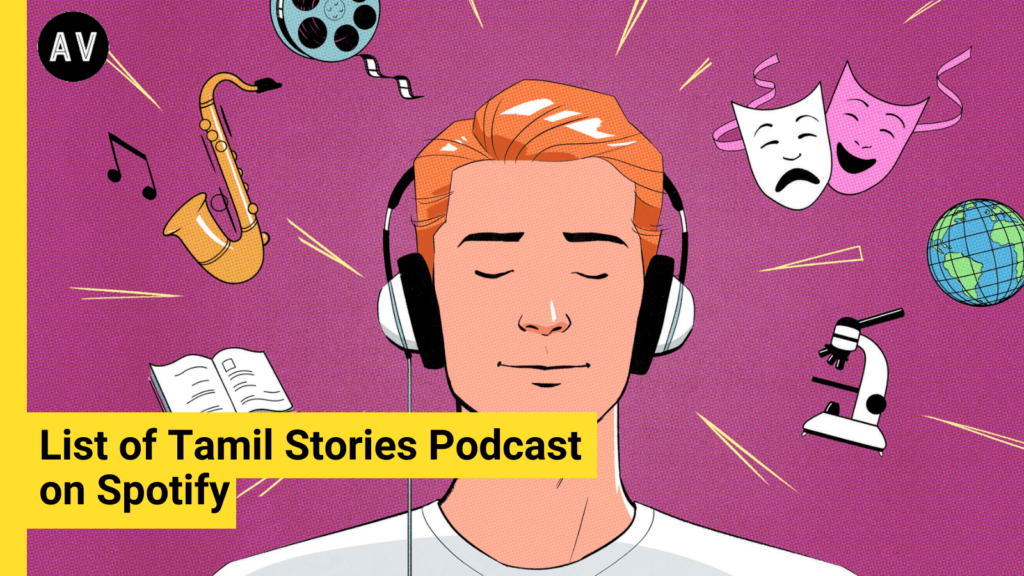 Here is a list of the best Tamil stories podcasts on Spotify.
In this post you will find
List of Tamil Stories Podcast on Spotify
Merkol podcast is one about quotes. It takes one quote a week and does a deep dive on that. It explains the story about the person who said it and also what the quote means. It concludes by giving actionable ideas/steps for people in regular everyday life.
I host the merkol podcast and if you are interested in quotes and also stories behind successful people then please do listen to this.
This podcast provides the best collection of Tamil Audio Stories from authors like Kalki, Saavi, Pudhumaipithan etc. You can also listen to sleep stories, book reviews, motivational stories, and much more. Kadhai Ketkum Neram serves as a platform to reach you all with diverse content. The host always strives to give good content to you.
A must-listen for everyone.
Here is the Spotify link: https://open.spotify.com/show/1dWrlpWKBSnoTsuabcFqYl?si=cdf4eece13804225
Pesum Kadhai is a collection of lesser-heard Tamil audio stories for kids. Short audio stories can be great fun for kids at bedtime and during travel and what if the stories are packed with values that can have a positive impact on the kids.
The stories are based on Puranas and Indian folk tales that have rich traditional, cultural, and moral values.
Since some of them are age-old lesser-heard stories, there could be multiple versions and I have tried to narrate the most popular version.
Here is the Spotify link: https://open.spotify.com/show/47W0spxLkvW0klCelTNNee?si=4f57777b907147b3
This podcast stays true to its name. It is the actual definition of a short story. Each episode does not cross more than 4 minutes. The host does a brilliant job in packing the entire story within this time frame. This podcast is amazing to listen to during the night especially as these stories are designed to be good bedtime stories. Mostly for kids, but I enjoy this :p
Here is the Spotify link: https://open.spotify.com/show/4HobebPQCAmwNPagMJSJM8
This podcast embodies the same principles of the Merkol Podcast. The only difference is that it brings out the quote as a moral of a story, but the merkol podcast provides actionable ideas and steps to implement it in your life. This is more a story podcast and the other one is more a motivational and inspirational podcast.
Here is the Spotify link: https://open.spotify.com/show/2q0HeftcoMB76sHrEjE8TN
Closing:
There are many others out there but below are the ones that are running actively at the time of publishing this article. I will update this article often, but if you feel like some other podcast needs to be added to this list then please do let me know.
If you are interested in hearing my podcast and what I have to say, check out the Merkol podcast.