When someone decides to create and distribute digital products online, there is quite a wide range of possibilities.
Mostly, people sell their own books or online courses. However, the Internet is loaded with similar products. And the websites that allow you to sell are almost infinite. So, how can one decide which is best?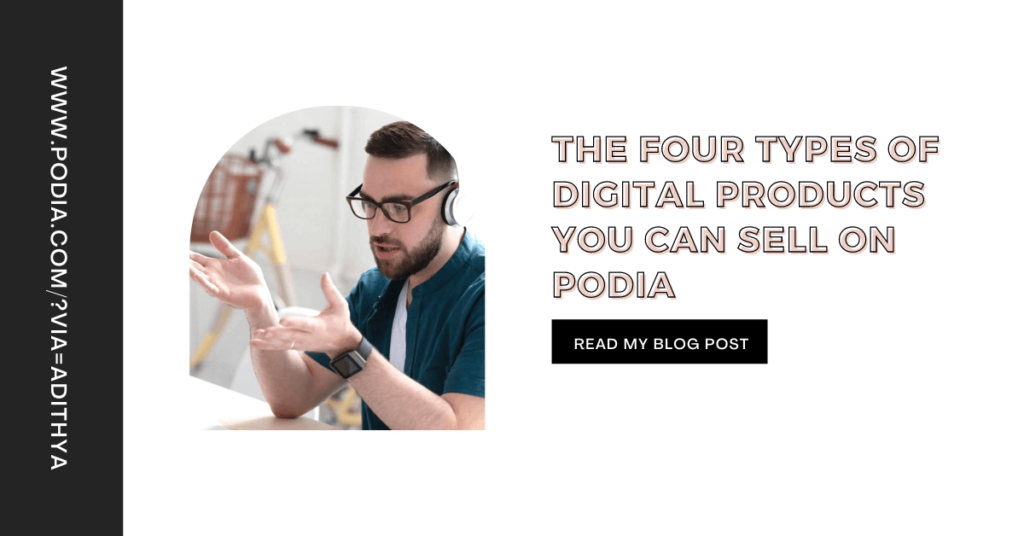 Podia stands out for several reasons. One of them is that this website allows the creator to sell four different types of digital products.
In this post you will find
List of the four types of digital products you can sell on Podia
Online Courses
In Podia, they support every file type the creator wants to upload (PDF, MP3, links, audio files, etc). Also, they won't limit the amount of content the creator wants to sell.
Creators also have the option to sell a bundle of courses. This means that related courses can be sold as one whole package, making it easier for the students to find what they're looking for.
One great initiative this company has is the pre-sell and pre-launch courses. It allows the creator to receive payments and suggestions before the course is out to purchase. This way, the creator can orientate its content to what the customer wants and notice whether or not his investment of time and effort will result in success.
Digital Downloads
You are not forced to sell an online course in Podia. Anything downloadable can be sold on this website.bAs mentioned before, they won't limit the number of products you are willing to sell. If a digital content creator wants to publish 300 ebooks, they are allowed to do so.
Even though ebooks are sold on many other websites as well, this is not the only digital download allowed in Podia. Audio tracks or podcasts are more than welcome to be uploaded and ready to be sold. Photographies and any kind of report are supported as well.
Community
If a digital content creator has built a good reputation or has a stable audience, they can run their own community on the website. Without the need to redirect your target audience to other websites, you can interact one-on-one with your students.
This is one excellent initiative as well. With this feature comes the possibility to email them your new courses or to ask them for what they want to see next. It makes the process more friendly and personal, allowing you to reply to comments or like the content. The creators and the audience can add text, images, and even videos to the website.
All of these possibilities make Podia and its courses seem more reliable and welcoming to new members.
Webinars
With either Youtube Live or Zoom, Podia allows the digital content creator to live stream about their topic of interest. Since the replays are stored, new customers can still access that content in the future.
With this feature, though, it is important to schedule ahead of time. In return for this small barrier, the experience between students and creators will be much richer.
The webinars can be included in the online courses or even in the digital downloads mentioned above.
One last real advantage of Podia is that, unlike other websites, doesn't charge you with unnecessary fees. The website offers fixed prices. You won't have any financial trouble with them while you're able to create a community of people interested in you and what you have to say.
Read more Creator Economy articles.