Are you struggling to get up and keep going? Maybe with chores or homework?
If you do, it's a pretty common problem. Especially with the many distractions nowadays like televisions and mobile phones. Getting started is hard, but keeping going is even harder.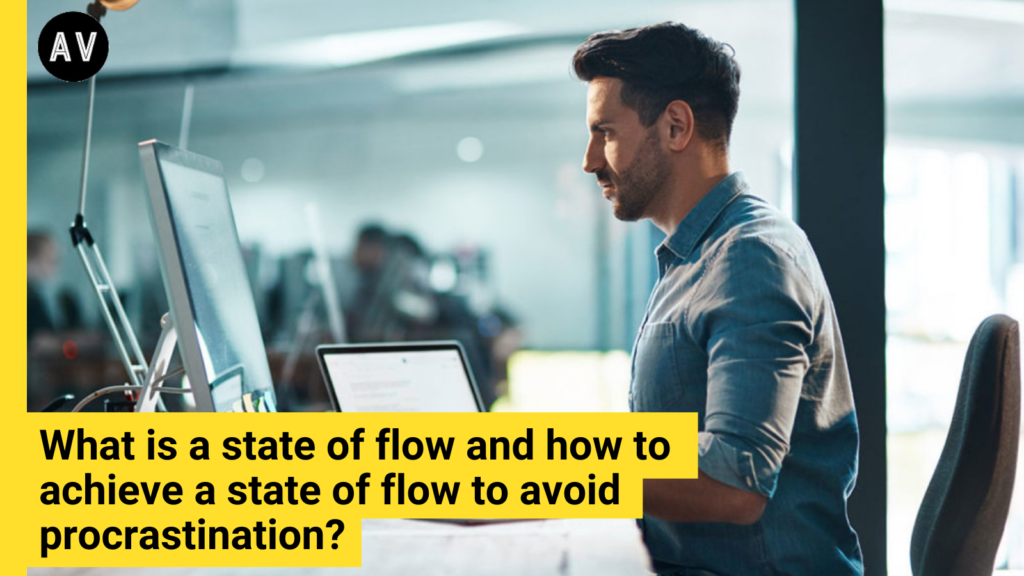 In this post you will find
What is a state of flow?
In simple words, a state of flow is a mental state where you perform an activity while being fully immersed in it. It'll make you feel as though you feel focused and energized towards that specific task.
For example, creating a report for your business's finances is something most people won't enjoy, when you don't enjoy something, you'd struggle to start on it and finish it.
Now let's think of something fun, for example walking your dog around a park, this is something people would enjoy doing when you do something you love, you'll find it effortless to start and finish.
The difference between the two is like fire and water. Research by Harvard Professor Teresa Amabile shows that people who successfully get into a state of flow show higher levels of productivity for up to three days!
Productivity isn't just the limit to having a state of flow, procrastination psychology says it helps to reduce flow and avoid procrastination as well. If we don't act on it then as we all know, Procrastination kills dreams.
How to achieve a state of flow to avoid procrastination?
Warm-up
Make it a daily activity to warm up before you start doing a certain task both physically and mentally. This can include anything, for example, yoga or meditating. The aim here is to make this a part of your daily ritual. It'll help you tackle difficult tasks. It'll help you get used to the lifestyle and help you achieve a state of flow to avoid procrastination.
Focus on one task
Multitasking may sound like the ideal way to handle things, but research says otherwise. Taking a scenario, research shows that 2.5% can multitask while the rest 97.5% are far more productive by focusing on a single task at a time. The state of flow psychology strongly suggests you say goodbye to multitasking and hello to focusing on one task at a time.
Listen to music while you work
Another simple, but super effective method to successfully achieve a state of flow to avoid procrastination. But not just any music, it should be something that truly inspires you. This would get you motivated to work as there's an aspect that gets you excited to do so.
You can check this LinkedIn post here that goes more in-depth about how different kinds of music help us reach the flow state.
Hydrate constantly
The last important tip to achieving a state of flow is keeping yourself hydrated. Even mild hydration can lead to constant tiredness, depressed moods, and headaches. And also includes fatigue, mouth dryness, and dizziness. Keeping yourself hydrated is easy to do, it helps to keep you healthy and energized, it's one step forward to avoiding procrastination and increasing productivity.
Have A Clear Outcome or Goal but focus more on the process
When you have a clear outcome or goal, you're more likely to achieve it. A clear outcome will give you the motivation to move forward and help you achieve a state of flow.
However, your focus should be on the process regarding achieving that outcome. Results aside, the process of acquiring that objective is equally important as long as it doesn't interfere with your productivity.
Don't get so involved in the process of acquiring an objective that you lose sight of what's important here. Focus on what's happening NOW and go from there.
The more panicky we are about failing at achieving something, the less likely we'll be to move forward with whatever action plan we have as well as our objectives for ourselves and our lives overall.
Closing
When you get into a habit of concentrating and engaging in your work, you'll also achieve a state of flow. This will energize your productivity and reduce procrastination. In fact, by following these tips and gaining a state of flow, life will be much easier and enjoyable, you can also get more free time to do the things you like.
It may take a few rough roads to achieve this, but it'll definitely be with it. Get started right now.